The Popping Stone in the 1860s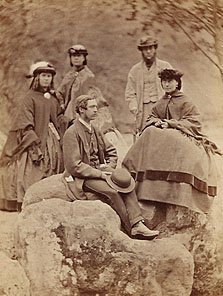 1. The Popping Stone in the 1860s
2. Photograph securely dated to 1861
The Popping Stone was obviously, even at this early date, a popular place to be photographed. The popularity must be linked to the Scott legend, but before it was appearing regularly in local guidebooks and before its elaboration into a reason for the stone's naming. A well-marked footpath, visible to the left in the photos, apparently ending at the stone, is further evidence of its popularity as a destination for strollers. Access to the Popping Stone must be the purpose for this path, as the river bank becomes impassable a few yards further on. Going to a remote spot for a photograph was a major operation in those days, with heavy camera equipment to be carried and long exposures during which the sitters had to keep perfectly still.
Several of the photos seem to follow a standard template, with a couple on the stone being "spied upon" by bystanders, who may include children, smartly dressed ladies and gentlemen and a rustic. Perhaps the hotel had a resident, but not very creative, photographer ? See my 1860s Peeping Tom Photos page for examples.
Although there are photographs of the Popping Stone available from the 1860s, after this time the supply seems to dry up, and I have seen very few dating from the 1870s, 80s or 90s. After 1902 the picture postcard craze provides plenty of Edwardian examples, but what happened in the decades before this ? In the 1880s the Kodak rollfilm camera became available and there must be amateur as well as professional shots from this time. Also, drawing and painting the local scenery was a common pastime for Victorian holidaymakers, but I have not found any of these, either. If you have any Victorian artwork or photos of the Popping Stone I would like to see them.