---
Some Local Place Names
Even a thousand years after they became derelict, Roman forts were part of the landscape and were called ceaster, from which place names such as Doncaster and Lancaster were derived. Bewcastle is mentioned in a document written in 1272, where it is called Bothecaster. The second part of the name refers to the Roman fort, and anyone familiar with northern dialects will recognise the first part as "bothy".
The word bothy comes from an Old Norse word pronounced "booth", from which we get another English word meaning "temporary building". The original pronunciation may help to explain why "bothy" became transformed into "bew", but not why local historians continue to link Bewcastle with a Saxon, Bueth. There is evidence of a Bueth near Brampton at Boothby, but the mediaeval castle at Bewcastle is too late to be linked with him. If Bewcastle had been the stronghold of a local chieftain, it might be called something like Bewburgh or Buborough, as in Scarborough (Scarthi's Burgh). The well-respected Place-names of Cumberland (Armstrong et al, 1950) states that it is impossible that Bewcastle could be named after Bueth.
Bewcastle meant something like "the Roman fort where there were bothies or shielings".
Added December 07:
It is becoming alarmingly common to see the castle at Bewcastle referred to as "Bew Castle", as if "Bew" was the name of the mediaeval castle. Presumably people are assuming that if it was Bueth's castle, then the Bew part of the name must be his name, altered by the passage of time, just as the Norman castle in Newcastle is named "The New Castle". As the name Bewcastle refers only to the Roman fort, and the word "Bew" has no meaning as a word or a name, the mediaeval castle, being built later, should be called "Bewcastle Castle". (The castle was referred to as "Bewcastle castle" in 1597, and as "Bothe Castel castr" in 1379)
It is locally known as the 'King's Stables'. (J. Collingwood Bruce)
Just across the Poltross Burn, Gilsland is fortunate to have one of the largest and best-preserved milecastles on Hadrian's Wall. It is one of the few sites where the original height of the Wall can be estimated, by projecting the existing stairs. The milecastle was fully excavated in 1909-10 by Gibson & Simpson, and their 71-page account was published in the Transactions of the Cumberland & Westmoreland Archaeological & Antiquarian Society in 1911. In the introduction they state: "The existence of this milecastle has been known since the days of Horsley (1830s), but, even in his time, the surface indications were not very evident, and its chief distinction was its name "The King's Stables" which it seems to have got in mediaeval times."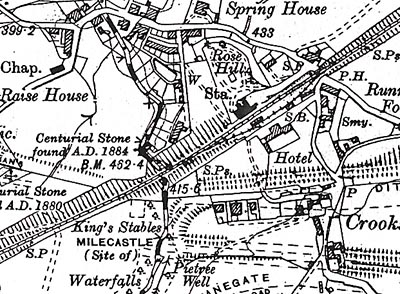 1925 OS Map with Milecastle 48 named King's Stables
In the early 1900s, the milecastles and other parts of Hadrian's Wall were still being discovered, often in out-of-the-way places which needed to be located for the benefit of interested people. Gibson & Simpson therefore called their monograph The Milecastle on the Wall of Hadrian at the Poltross Burn. This form of title is obviously to locate the site, and isn't a renaming, as the authors specifically state in their introduction, quoted above.
The layout of the buildings within the milecastle is reminiscent of stable blocks, and the name reflects the fact that local people were the first excavators. Although they were 'mining' it for building stone, the name shows that they observed & interpreted what they saw.
William Bird, vicar of Gilsland 1904-25, wrote Gilsland and Neighbourhood, still the best guide book to Gilsland. In it he states:
"At the Cumberland side of the Poltross Burn, on the south side of the railway, almost opposite to Gilsland Vicarage, are the remains of a Roman mile castle – locally known as "The King's Stables," so called from an old Arthurian legend – which served to guard the passage of the Poltross."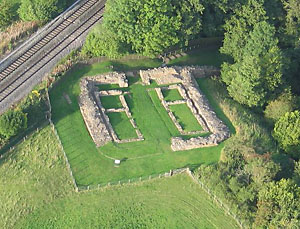 The Kings Stables, 2006; photo S Ledingham
The local, and only, name for this site has always been, and still is, The King's Stables. So why is it now referred to as Poltross Burn Milecastle on signposts and in modern guidebooks ?
English Heritage's main justification for using the new name was that the document placing the site in the guardianship of the state uses the imposed name. This is precisely what I object to – a bored committee of heavy-ended gentlemen in London scrapping a piece of local tradition because they think they know better.
We also have to consider the embarrassment factor. Eminent archaeologists and civil servants are unwilling to use rustic names such as The King's Stables in their official writings. Our milecastle's name is also unfortunately linked to Arthurian legend, along with Arthur's Well and the King's Crag or Seat near Sewingshields. For a professional archaeologist any taint of Camelot amounts to professional suicide. Such people prefer to compile lists of "official" names for, not only archaeological sites, but birds, flowers, you name it. Indeed, when I first phoned EH about this subject, the lady said "But we have to use the official names"! (Expletive deleted)
The preservation of fragile reputations need not be the guiding principle for preservation of our heritage. The milecastles of Hadrian's Wall have been numbered, and the numbers are widely published, for instance on OS maps. For formal or academic writings, "milecastle 48" can be used.
Is it worth making a fuss about ? I think names are important, giving a sense of ownership of and meaning to the familiar landscape. Such ownership is now under constant assault by officious, indeed downright possessive, administrators and popularisers who claim to be recording or publicising local history for the benefit of tourists and locals alike. In fact, because of their skimpy research and arrogant terms of reference - and nowadays their employment of unsupervised interns in important admin tasks. ("We're so busy . ."), they tend to corrupt it.
My Campaign
Following supportive responses from the 3 Gilsland Parish Councils to my letters about the unauthorised change of name of our milecastle, the then fly-by-night self-administrative body ("Hadrian's Wall Heritage Ltd" would you believe) sent us a list of very stupid reasons for the name change. This catalogue appears to be cobbled together more as an office joke, reinforcing my suspicion of the flippancy with which such persons administer our heritage. In one of their responses they tell us that "it is generally recognised as Poltcross (sic) Burn - for example in all (sic) the literature about Hadrian's Wall." I have quoted (above) several authoritative books which go out of their way to stress that the proper name is King's Stables, but HWHL seem to have meant "all the more recent literature" and tell us that the oldest book they have to hand dates all the way back to 1961.

This uniformity is hardly surprising, considering the power that English Heritage and the like have to distribute disinformation about the Romans, or whatever else falls within what they fondly imagine to be their remit, in pursuit of their mission to homogenise local character and its historical roots into a seamless, officially approved piece of PR. HWHL's main points were:

1) That changing names "now" would lead to confusion. To whom, I'm not sure, nor whether it matters more than the authenticity of our place-names. And they caused the confusion in the first place.

2) That someone created a list of labels and numbers for the milecastles. So what ? It is magnanimously admitted that this numbering system has imperfections, but how this is linked to the viability of arbitrary names or a perceived inability to change them is not clear.

3) That we have "no powers to change the name". In my original approach I did not ask HWHL to change the name, I asked for their support. If several influential bodies along The Wall began to question the standardisation of place names, perhaps others would take notice ?

4) That there is a milecastle called King's Hill (no. 36) and to change ours would cause confusion (again)!

5) That we don't know what the Romans called the milecastle. Eh ? I am prepared to wager a tidy sum that they didn't call it King's Stables or Poltross Burn, but am at a complete loss to understand the relevance of this insight.

6) That it is listed with UNESCO as Poltross Burn milecastle. If the deliberations of British archaeologists are of dubious relevance to our place names, the arcane and politicised technicalities of World Heritage "status" are well outside most people's concept of reality. The WHS is regularly reviewed, and a name change could be made then.

A faint glimmer of hope appeared in another letter where the possibility was admitted that future replacement signs could include the local name beneath the official one, but nothing has materialised.

I also responded to the warm, fuzzy feelings emanating from Northumberland National Park by asking what I thought was a simple question: "Do you have a policy on local place-names ?" This led to a Byzantine exhibition of helpfulness stretching over several months and four different media. Eventually the answer popped out. No, we don't, we're too busy anyway, and of course we aren't obliterating local character. W-e-e-ll, actually, not even having a policy (i.e. just accepting what you are told by Big Brother) could be considered carelessness, at least.

More recently, I have explained my disappointment at the lack of serious consideration of my campaign to various heritage executives visiting our area, and each has promised to "look into it" and get in touch. They never did, and I assume that if they did mention my heresy back at the office, they were quietly taken aside and advised to forget it if they wanted their contract renewed.

To summarise: Besuited persons have no right to change place names on a whim, or indeed to impose any other aspect of their office culture on the rest of us.

That said, I think one of the other milecastles near Gilsland should have its name changed!
William Howard's 1603 map of the Barony of Gilsland shows a tenement or farmstead called Harrowes in a field near Harrows Beck on Kiln Hill farm. Traces of this building can still be detected at NY61976658. The bank of the Irthing opposite the roman bridge abutment at Willowford is being eroded by the river, forming a cliff called Harrows Scar, this name having been transferred to the nearby milecastle 49.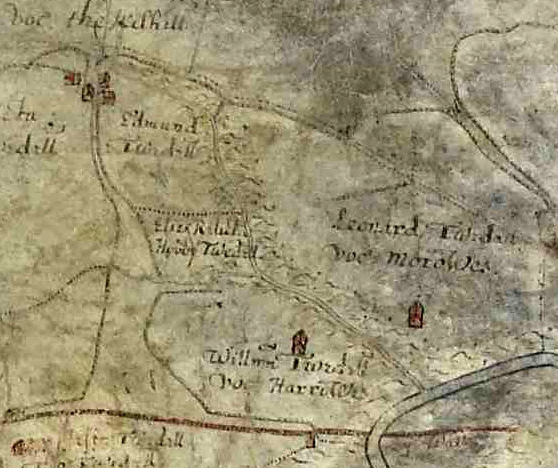 Harrows, Morrows and Kiln Hill in 1603. The Roman
Wall is indicated by a red line at the bottom.
The addition of an s to a place name is quite common in this area: for example Hollows, just across the river, or Torties a few miles to the north. Unfortunately, at some time in the 19th century, a grocer's apostrophe was introduced into the name for no discernable reason, giving us the currently used "Harrow's Scar". This alters the meaning of the name, suggesting that it is named after a person called Harrow. English Heritage and the Ordnance Survey have uncritically repeated this error, but given their propensity to change long-used place names on a whim, perhaps they can be persuaded to correct this one?
n
n
I have long been intrigued by the name of Moss Peteral farm, recalling the name of the River Petteril which flows through Carlisle. The farm lies two miles north of Greenhead, between the Tipalt Burn and the Crammel Burn, which run roughly parallel on WSW courses. The other two boundaries of the farm link these rivers on approximately NNW bearings, forming a rough square up to 1.5 miles in diameter.
The two NNW-trending boundaries are marked by ditches, the north end of the western one being named Ealan's Ditch on OS maps. The eastern boundary has a deep, wide ditch to the north, and where it follows Calf Close Syke at the south end a low ridge appears to have been thrown up along the bank of the syke. These features are suggestive of ancient boundaries.
Andrew Breeze discussed the name of the River Petteril in his article in CWAAS, in which he points out (four times) that the Wesh word petrual or pedryfal means a square or rectangle, and is used to describe rectangular features of the landscape in mediaeval sources. It is also interesting to remember that "pethera" comes after yan, tan, tethera in the Cumbrian sheep-counting system. That said, two respected authorities on place-names, Armstrong and Ekwall, were not prepared to commit themselves to an etymology of the name of the Petteril, but they were working over 50 years ago, when access to historical sources was limited compared to today.
It seems possible that Moss Peteral existed as a large square entity well back into mediaeval times or even before, depending upon how we evaluate the survival of possible British/Celtic place names.
Mumps Hall is a 17th century building in the village of Gilsland; the surrounding hamlet is also known as Mumps Hall. It is now part of a Victorian terrace, but the original building at the east end can be recognised by the blocked-up 17th century windows. Mumps Hall became famous in the 19th century through the use (or invention?) of its reputation by Sir Walter Scott in the setting for a scene in his novel Guy Mannering. Scott punctuated the name Mumps's Ha', but now it is usually written Mumps Hall, or Mumpshall in older references.
The name is interesting, but it is difficult to trace any plausible origin. Scott, in his explanatory notes to the magnum opus edition of his novels suggests that, in Lallands Scots dialect, a mump is a beggar and the name thus means "Beggars' Hall". This is quite possible as affectionately derogatory place names are not unusual, like personal nicknames. Celia Fiennes travelled through what is now Gilsland in 1689 and called the building Muncks Hall and Mucks Hall in the same paragraph of her diary, the former attempt suggesting "monks". Nether Denton burial register has the following entry: "1717 Margt wife of Thos Carrick of Monks Hall Dec 15", although the name is spelt Mumps on her gravestone. There is an area nearby which was called Monks' Hill on a map of 1603, but any direct link with, perhaps Lanercost, is unlikely as the abbeys were dissolved long before the building of Mumps Hall.
The Carrocks and Teasdales who occupied Mumps Hall in the 18th century took pride in their association with the building, emphasising their residence on their tombstones in Over Denton churchyard. This pride continues today, with Scott's myth celebrated as part of village history.
My own preference is for "Beggars' Hall", but the hints about monks are intriguing.
For a list of historical references to Mumps Hall see my web page