---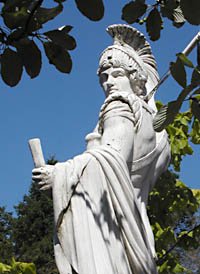 Roman Camp
Outcrops of good-quality building stone are like hen's teeth west of Banks. Consequently robbing of Roman sites has been taken to an extreme degree, so that there is virtually nothing Roman to be seen in north Cumbria. Undaunted, the Burgers of Brampton were determined that tourists should have something Roman to see in their town, and Mrs Hadrian is the result.
Monty Python's Brian asked "What did the Romans do for us ?", and presumably similar sentiments are expected to arise on viewing this classical intrusion. Brian's question was answered in ludicrous detail, and, ironically, right behind the statue is a plaque commemorating George Johnson which reminds us that; ". . under his chairmanship Brampton Guardians secured a supply of good water for the town . .". Yes, the Romans did build some aqueducts, and some quite useful roads, but that was a long time ago. For a clearer understanding of our present lifestyle, and why it is so difficult to park in Brampton or heat our houses, we should look to the Georgian and Victorian periods. Their achievements were pretty impressive, and heritage industries elsewhere manage to make a lot of them.

Good likenesses of the real Hadrian exist - why couldn't we have had something based on one of those ? He was a handsome individual and is known to have sported a beard from an early age. If the statue is meant to represent the young Hadrian, he should not be semi-naked as emperors were rarely depicted thus until they had been deified - this statue looks more like an off-the-peg Greek god.
Someone who did not have a beard, was deified at an early age and is usually represented in an androgynous pose was Hadrians boyfriend Antinous, (it was a stable relationship) who is still worshipped today. I think the statue looks a lot more like Antinous than Hadrian. What do you think ?
I suspect that we have Mrs Hadrian because the Classical Ideal still holds a strong attraction for movers & shakers today (and archaeologists who disparage later "sub-roman" periods). It isn't such a bad statue, and would be quite tasteful in the Pump-house at Bath, or on the streets of Rome, but Brampton ? Howay Man !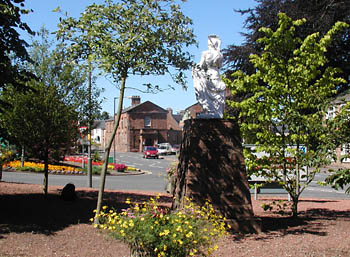 The statue can be found at the junction of Main Street and Front Street.
One Roman site which was excavated in the Age of Reason and therefore revealed amazing Dark-Age structures is Birdoswald.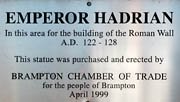 ---