---
The Popping Stone at Spottiswoode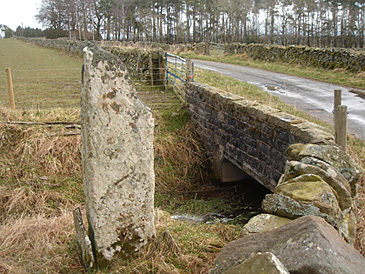 The Popping Stone and Rundie's Ford (Photo: Will Higgs)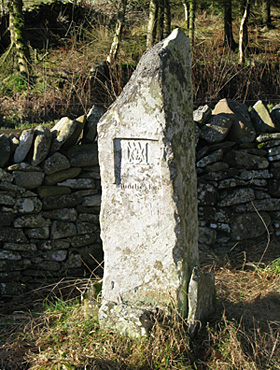 The Popping Stone at Spottiswoode, note the square monogram. (photo: David Long)
The Popping Stone at Rundies Ford in the hamlet of Spottiswoode, near Lauder, is generally only recognised as such by local people. It has not been recorded in print except for two brief published comments, and on the Berwickshire Communities Online Westruther website. The stone is particularly remarkable to any student of Popping Stones in that it increases the known number of examples by 100% and is linked, as is the Gilsland stone, to the courtship of a famous member of the Scott family. In the Spottiswoode case, Sir John Scott, a son of the Duke of Buccleugh, is said to have proposed, at the stone, to his future wife Alicia Spottiswoode, later known as Lady John Scott. She was a poet and song-writer, said to have written, or at least recorded, the tune "Annie Laurie". Lady John Scott (1810-1900) lived all her life in the Spottiswoode area and is known to have been an outspoken character, becoming eccentric in later life, outliving her husband by 30 years.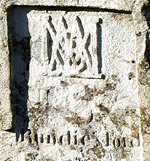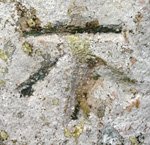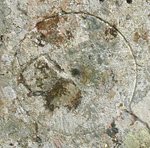 Popping Stone Co-ordinates
OS: Sheet 74;
NT 6111 5072
GPS: (Datum WGS84)
N 55.74836
W 002.62100
The Spottiswoode Popping Stone is approximately 1.5m high and is rectangular in section, about 42cm wide, the facets oriented close to the main points of the compass. It is a piece of red sandstone, slightly unusual in the Lauder area, as most loose boulders are of whin stone (basalt). Many of the houses in the area are, however built of sandstone which is available not far away, but the possibility remains that the Popping Stone was deliberately selected and transported from some distance. It gives the impression of having been poorly installed, having a distinct lean (with evidence of cattle-rubbing) and having been wedged with a number of stone slabs around the base, although it is very close to the water and may have been undermined during spates (as is the Gilsland stone). The stone carries a number of inscriptions and symbols. Apart from various initials and dates scratched onto it (which themselves show that it has some claim to fame) there is an enigmatic circle engraved around a central cavity. The stone also bears:
"1826" - presumably a date, on the south side only (in relief);
"Rundie's Ford" - thought to be the name of the crossing of the small burn - on the S & E sides (engraved).
Alicia Spottiswoode's square monogram "AAS" (possibly within an M) on the S & E sides (in relief)
A surveyor's bench mark, low on the south side, perhaps dateable to the 1860s OS survey.
In 1826 Alicia would have been 16, an early age for erection of marker stones, and her marriage to Sir John took place in 1836. She may well, however, have known him from an early age and his proposal could have taken place many years before the marriage.
References
Barry, T. & Hall, D. 1997. Spottiswoode. Life and Labour on a Berwickshire Estate, 1753-1793 East Linton: Tuckwell Press (p72)
Hist. Berwickshire Nats Club. 1834. vol. 18, 102-118. (p105)
---